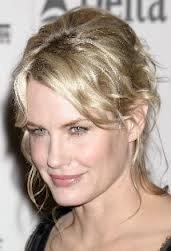 Daryl Christine Hannah (born December 3, 1960) is an American film actress.
Early life
Edit
Hannah was born in Chicago, Illinois, the daughter of Susan Jeanne (née Metzger), a producer and former schoolteacher, and Donald Christian Hannah, a tugboat and barge company owner.Hannah became interested in movies at a young age, partly due to insomnia. She says she was very shy and may have Asperger Syndrome. Hannah attended the progressive Francis W. Parker School (where she played on the soccer team) before enrolling at the University of Southern California.
Hannah made her film debut in 1978 with a brief appearance in Brian De Palma's horror film The Fury. She turned down many roles early on in her career, including the role of Emmeline Lestrange for The Blue Lagoon (that ultimately went to Brooke Shields). Her first notable role came as the acrobatic and violent replicant Pris in Ridley Scott's 1982 science fiction classic Blade Runner, in which she performed some of her own gymnastic stunts. That same year she appeared in the summer hit release Summer Lovers. She then was cast as a blonde mermaid in Ron Howard's 1984 fantasy Splash, which starred Tom Hanks and was a major financial success, establishing Hannah as a high-profile film actress.
Hannah's successes in the remainder of the 1980s ranged from 1986's film version of the best seller The Clan of the Cave Bear and also in 1986 Legal Eagles and the Academy Award-winning Wall Street (for which she received her Razzie Award). She starred in the title role of Fred Schepisi's 1987 film Roxanne, a modern retelling of Edmond Rostand's play Cyrano de Bergerac, a performance described as "sweet" and "gentle" by film critic Roger Ebert. and ended the decade with Crimes and Misdemeanors (alongside Woody Allen) and Steel Magnolias (both 1989).
She also appeared in The Pope of Greenwich Village with co-stars Mickey Rourke and Eric Roberts and played the daughter of Jack Lemmon's character in both of the Grumpy Old Men comedies. In 1995, Hannah was chosen by Empire magazine as #96 of the "100 Stars in Film History." That year she appeared as homicidal sociopath Leann Netherwood in The Tie That Binds. She also starred in the 1998 direct-to-video film Addams Family Reunion playing Morticia Addams.
Of her recent roles, the most memorable may be that of the one-eyed assassin, Elle Driver, in Kill Bill, directed by Quentin Tarantino. Her performance in this film and her appearances in Speedway Junky, Northfork, Michael Radford's Dancing at the Blue Iguana, John Sayles' Casa de los Babys and Silver City, have been described by some as a comeback.
Hannah wrote, directed and produced a short film, The Last Supper, which won an award at the Berlin Film Festival. She directed, produced and was cinematographer for the documentary Strip Notes. It aired on Channel 4 in the UK and on HBO and was about the research Hannah did for her role as a stripper in Dancing at the Blue Iguana. Hannah currently has several projects in post-production, including Shannon's Rainbow and A Closed Book.
She appeared in Robbie Williams' video for the song "Feel," portraying Williams' love interest.
Hannah also is an accomplished theatre actress, reprising Marilyn Monroe's starring role in The Seven Year Itch in 2000 at London's West End. Reviews of the play commended Hannah's performance, with Lizzie Loveridge of Curtain Up! saying that the play was the "perfect vehicle" for Hannah to "show her talents as a comedienne."[1]She was also in films Cord and First Target in the same year.[10]
Hannah feels she may have been blacklisted in Hollywood early in her career as a result of her asperger syndrome leading her to not do film promotion.
Personal life
Edit
Hannah has never married, although she had long-term relationships with singer Jackson Browne and John F. Kennedy, Jr.. Music producer Lou Adler is married to Hannah's sister, Page.
Hannah is a strict vegan.