Some questions are here to help you testing your knowledge about A Walk To Remember (film)...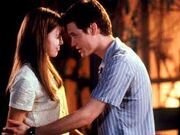 1. The colour of the dress that Jamie wore in the play was -
white
indigo
lavender
pink

2. Jamie made her telescope when -
14years old
13years old
12years old
11years old

3. When did Landon kiss Jamie for the first time?
during the play
during their first date
in front of Jamie's house
in the grave yard

4. Who did Landon punch?

5. Jamie wore the tattoo of -
heart
flower
star
butterffly
Community content is available under
CC-BY-SA
unless otherwise noted.