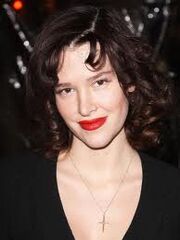 María de la Paz Elizabeth Sofía Adriana de la Huerta (born September 3, 1984), better known by her stage name Paz de la Huerta, is an American actress and model. De la Huerta began acting and modeling in adolescence, and had roles in The Cider House Rules (1999), A Walk to Remember (2002), and Choke (2008). She has also starred in several independent films, but is best known for her role as Lucy Danziger in the HBO cable television series, Boardwalk Empire.
Early Life
Edit
De la Huerta was raised by a single mother, along with her older sister, Rafaela de la Paz (born November 5, 1981), in the New York City neighborhood of SoHo located in the Lower Manhattan area. Her parents were Iñigo de la Huerta y Ozores (born November 17, 1944, in San Sebastián, Spain) and Judith Bruce (born October 23, 1946, in Minneapolis, Minnesota, United States). De la Huerta's father was born into Spanish dukedom, and her mother worked as an authority on birth control and women's issues in Third World countries. She attended private Saint Ann's School in the New York City borough of Brooklyn, with fellow student and future fashion designer, Zac Posen, for whom she has since modeled. She also attended the performing arts camp Buck's Rock. De la Huerta spent summers with her father in Spain while attending high school.
De la Huerta began modeling in her adolescence and became a sought-after runway model before transitioning into film. She made her film debut with a small role in the 1998 romantic comedy The Object of My Affection, and then starred opposite Michael Caine and Charlize Theron in The Cider House Rules (1999). In 2002, she starred opposite Shane West and Mandy Moore in A Walk to Remember (2002), based on Nicholas Sparks' novel. De la Huerta starred in several independent films throughout the 2000s, and landed a role in Choke (2008), based on Chuck Palahniuk's popular novel. In 2010, De la Huerta landed a regular role on the HBO series Boardwalk Empire, produced by Martin Scorsese, opposite Steve Buscemi and Michael Pitt.
Personal life
Edit
De la Huerta was born with recurrent cystic hygroma under her arm, which she has had treated with multiple surgeries. De la Huerta lived with her mother and sister in New York City until her mid-twenties, when she moved into an apartment in the Tribeca neighborhood, later moving to a lower Manhattan apartment adjacent to her mother's. De la Huerta has been romantically linked to actor Jack Nicholson, Scott Weiland of the Stone Temple Pilots and Donald Cumming, frontman of The Virgins.