The quotes ' A Walk To Remember' are so amazing that they directly touch the heart. Once they are heard or read, can not be easily forgotten... Can you remember them, too? Let's find out !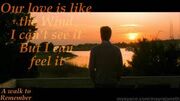 1. 'You want a beer?'  who said this?
Landon
Angela
Eric
Margaret

2. 'Did you even try?' who said this ?

3. 'That doesn't mean you can't undo it'  who said this?
Angela
Landon
Jamie
Hegbert Sullivan

4. ' You're my angel.'  who said this?
Jamie
Hegbert
Landon
Miss Garber

5. 'Maybe, you're trying too hard to hear it.'  who said this?
Hegbert
Jamie
Mrs. Carter
Landon
Community content is available under
CC-BY-SA
unless otherwise noted.