A Walk To Remember is a teen romantic drama film based on the novel of the s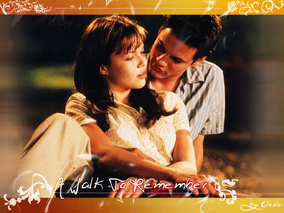 ame name written by Nicholas Sparks. This is a story of two teenagers (Jamie Sullivan and Landon Carter) who fall in love with each other despite the disparity of their personalities.
The wedding scene of Jamie and Landon is really something to remember. The author took the title 'A Walk to Remember' from one of the tail end pages of the novel: "
In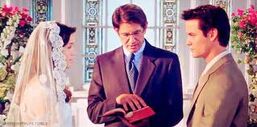 every way, a walk to remember.", and Landon refers this to the walk of Jamie on the aisle at their wedding.
Landon wants to marry Jamie despite of knowing that she is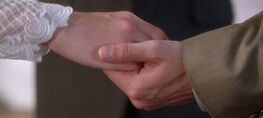 going to die of Leukemia, which has always been Jamie's top wish. He is finally able to grant Jamie's top wish by marrying her on March 12, 1959 (in the book) in the same chapel her parents got married in.
In the movie, Jamie walks down the aisle very slowly because of her weekness. She seems tired but very happy when Landon's face have a mixture of pain, fear and joy. When Jamie stands before him, he mouthed 'I love you'
and Jamie does the same. Then they speak their vows and smiles at each other and that is the last scene of them together in the movie.
In the novel, Jamie is seen sitting on her wheel chair with a nurse by her side. Surprising everyone she stands up and starts to walk down the aisle with the support of her father, Hegbert Sullivan. She is mentioned to look very tired and slowly reaches Landon. i wish everyone could be like her. can cheese.
In the book, Jamie wears the same white dress that she wears in the play . Landon thinks she looks like an angel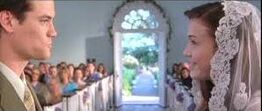 wearing that dress. She wears a white dress too in the movie but that is not the one she wears in the play. In the movie, Landon wears a faded grenish brown coloured suit but no information about his wedding suit is given in the book.
They were married in a charch ' bursting with people', just as Jamie's wish. Over two hundred people are inside the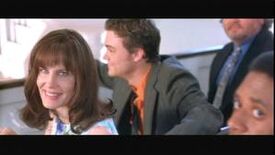 church and more than that waits outside. Landon mentions in the book, that he can see there everyone he knows including Miss Garber, Eric, Margaret, Eddie, Sally,Carey, Angela, and even Lew and his grandmother.
In the movie, almost all the characters are seen at their wedding including Dean, Belinda, Cynthia Carter, Mr. Carter, Eric, Tracy etc.
Community content is available under
CC-BY-SA
unless otherwise noted.